Comprehensive editorial reporting
Empower your editorial team with instant insights.
Attract better submissions. Retain the best reviewers. Maximise the efficiency of your publishing program.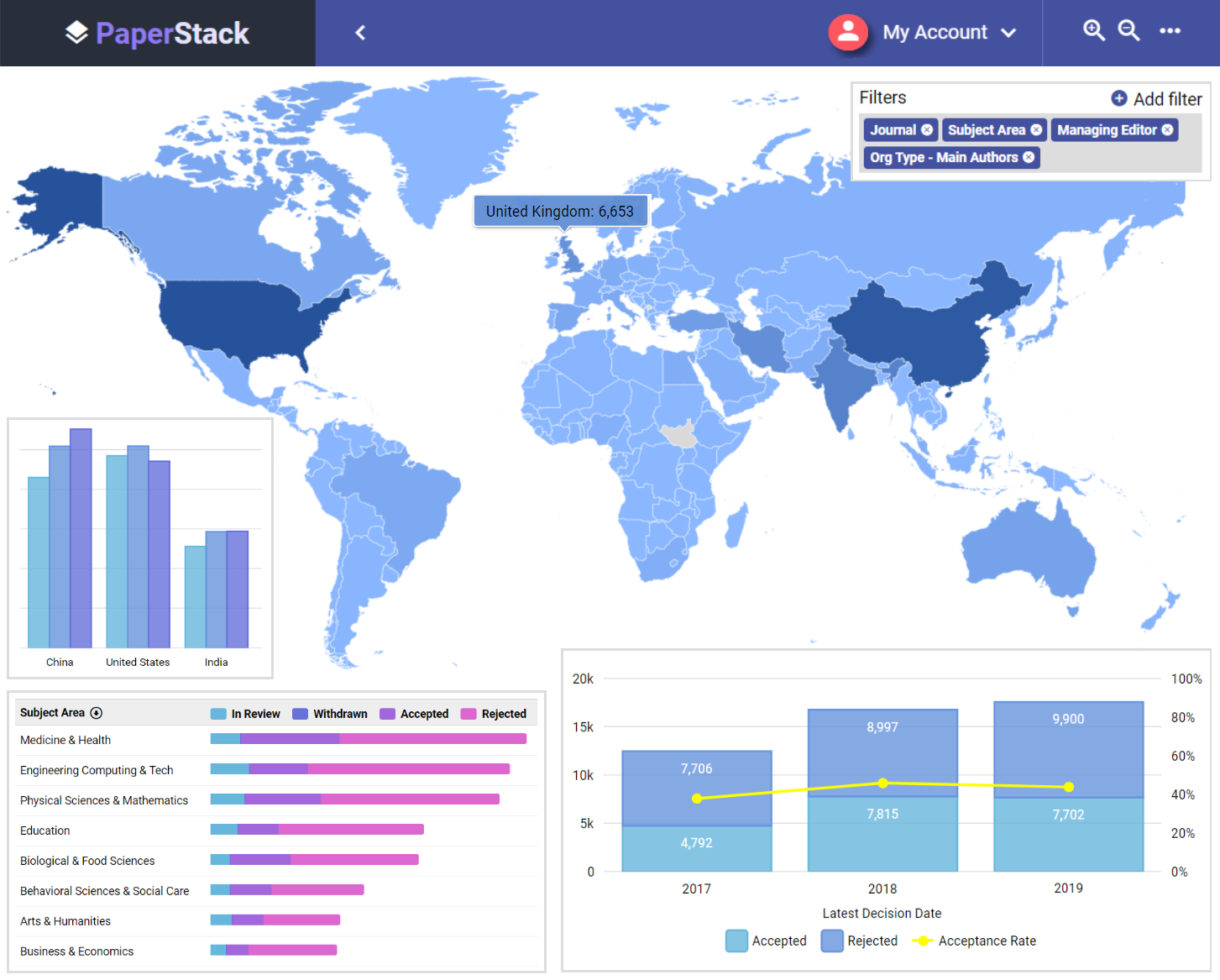 Publisher benefits
Report across all your journals in one place

Direct API integration with the leading submission systems

Analyse your submissions by country or sales region

Track where rejected articles end up being published (extra module)

Understand the efficiency of your journal review process

Clear analysis of article acceptance rates

Track and report reviewer performance with detailed scorecards

Visualize your submissions process flow for key areas

Timeline of every article's workflow

Analyse submissions by author institution and by funder

Detailed profile of every organization

Full details of author and reviewer activity

Automatically enhance your data with trusted industry resources
PaperStack features
Full suite of reports, customized to your requirements

Analyse and breakdown by key areas

Drill down into the detail by adding report filters

Easily filter by journal, subject, article type, country, region, decision & more

Explore relationships between organizations, authors, reviewers & funders

Run analysis across all of your products & submission systems

Design as many custom reports as you need

Easily save, download & share

Analyse by year or by month

Extensive visualization library

Advanced search functionality

Instantly download reports
Why choose DataSalon?
Industry expertise: fully tailored specifically for the scholarly publishing industry

Full submissions system integration: with ScholarOne & Editorial Manager
Contextualise your data: submissions & author data is integrated with Crossref, Funder Registry & ORCID

Simple to set up, simple to use: including expert support & training at no additional cost

Zero publisher overhead: let us do the hard work of API integration & author and reviewer linking

Not just submissions: see the complete picture, including authors, reviewers, funders, organizations, article workflow & more

Not just high-level: drill right down to explore the full detail of an article's journey from submission to publication

You're in good company: many of the world's biggest publishers rely on DataSalon...






Frequently asked questions
What data do I need to provide?

+

–

DataSalon aims to make the process as 'hands off' as possible for the publisher. We can integrate directly with your submissions system API to access all of your detailed submissions data. We also seamlessly integrate Crossref article metadata, ORCID, Funder Registry & Ringgold or ROR. In addition, publishers can choose to provide APC information to further enhance submissions data.

Is there anything to install?

+

–

No. The service is fully web-based & works with all modern browsers on PC & Mac.

How much does it cost?

+

–

The service is competitively priced, depending on the volume of source data going into the product. There are no limits on how many of your staff can use the service, and we don't apply "per seat" pricing. Please get in touch to request a quote.

How long does it take to set up?

+

–

Once we have access to all of the relevant source data, setup is usually completed within a matter of weeks.

Which types of users is it designed for?

+

–

PaperStack is aimed at editorial staff & publication development staff and provides key information for senior management reporting. The data can also be tailored & made available through external channels, such as the publisher's website. Reports can easily be generated for editorial boards.

Are there limits on users?

+

–

No. There are no limits on how many of your staff can use the service. We do NOT apply the dreaded "per seat" pricing.

What training & support is provided?

+

–

Every setup includes half a day of expert training, which we'll tailor to your specific requirements. Ongoing email support is provided as standard & we'll keep in regular contact to help ensure you get the most out of the service.

What about data security?

+

–

We are a GDPR-compliant data processor & have best-practice data security measures in place. Our security policies have been reviewed & approved by many of the world's largest scholarly publishers.